Faculty
Graduate Students
Meghan Jain '18 -MA candidate in Neuroscience and Behavior
Hi! My name is Meghan and I am a Master's candidate in the Neuroscience and Behavior program from Chicago! I completed my Bachelor's here in the NS&B program as well! I focused my master's research on the post-concussive effects seen on reading patterns in student-athletes. Outside of campus life, I love to cook and be outdoors!
Samantha Schreiber '18 -MA candidate in Psychology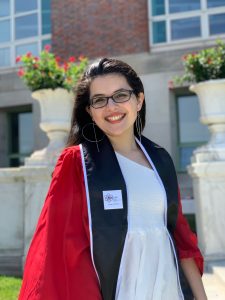 Hi my name is Samantha and I am currently a BA/MA student. I got my Bachelor's degree in Psychology. For my Master's, I have been conducting research over the past few years looking at compound word processing and individual differences in reading processes. This research has culminated in a Master's thesis on compound word processing, performance on the Compound Remote Associate test, and Individual difference measures. In my free time I am a Peer Health Coach, and I enjoy knitting, doing Zumba, and playing with my dog!
Undergraduate Research Assistants
Kate Babcock '21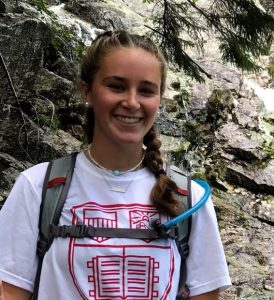 Hi! My name is Kate and I am a junior Neuroscience and Behavior, Biology, and Science in Society triple major from Stratham, NH. I recently joined the lab and am currently working on a Word Experience project looking at age of acquisition and word familiarity. Outside of lab I like to ski and spend time with my siblings.
Allison Galante '20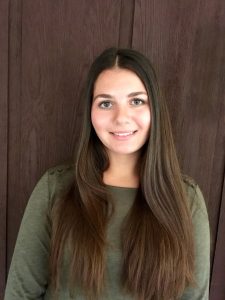 Hi! My name is Allison. I'm a senior Neuroscience & Behavior and Science in Society double-major. I am interested in the neuroscience of reading and the translational applications of reading research. In the lab I have worked on studies examining morphological effects in word processing using our eye-tracker and questionnaires. I am also an Academic Peer Advisor and hospice volunteer! In my free time I enjoy reading, yoga, and watching sci-fi movies.
Chaltu Rashid '21
Hi my name is
Chaltu

and I am a junior ('21) Psychology major from Oakland, CA. I am a QuestBridge scholar and a McNair fellow, and right now in lab I am working on the Word Experience Project. Some interests that I have include photography, softball, and yoga. One club that I am very passionate about is the Ankh, the student of color publication, so please check out our publication when you get the chance!
Former EyeLab Members
These students spent a year or more working in the lab on various research projects.
Rachel Berkowitz '09 (Senior Honor's Thesis: Recognizing English Compound Words: The Role of Morphological Family Size)
Jennifer Brewer '13
Melanie Cherng '08 (Senior Honor's Thesis: The Role of Hyphenation in Compound Word Processing)
Yeri Choi '08
Joanna Dicke '10
Oufei Dong '13
Margaret Gullick '07
Alix Haber '11
Malcolm Hill '08
Tanya Horwitz (Senior Honor's Thesis: The effects of age-of-acquisition on lexical decision and naming times)
Celia Joyce '16  (Senior Honor's Thesis: Individual variability in reading processes: The compound remote associates test)
Julie Kastenbaum
Micaela Kaye '16
Yun-Hsuan Lai '14 (Senior Honor's Thesis: Eye Movements in Autism Spectrum Disorder: Implications for Social Deficit)
Rebecca Loomis '10 (Senior Honor's Thesis: The Influence of Sentence Context on Reading Times for Abstract and Concrete Words)
Alexandra Pogosky '13
Ali Pourmaleki '17
Akila Roaul '16
Joshua Sharp '09
Leah Shesler '11 (Senior Honor's Thesis: The Age-of-Acquisition Effect in Patients with Language Impairments)
Linda Shum '09
Medha Swaminathan '19
Sarah Taylor '07
Kelsey Tam '19
Kacey Wochna '10 (Senior Honor's Thesis: The Puliguous Effects of Context Length on Incidental Word Learning)
Michelle Woodcock '14
Lauren Yue '17