Faculty
Graduate Students
Hely O Rodriguez '19 -MA candidate in Neuroscience & Behavior
Undergraduate Research Assistants
Grace Devanny '23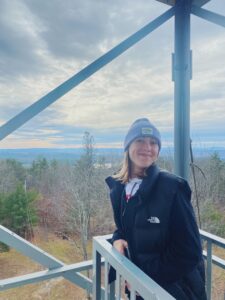 Hi! My name is Grace and I am a junior Neuroscience and Behavior and Psychology double major from Concord, New Hampshire. I joined the lab my junior year and I have been working on various projects such as the Wesleyan Word Experience project and future Eye-tracking studies. Outside the lab, I am a member of the Wesleyan track and field team and soccer team. I also enjoy skiing, hiking, and hanging out with my dog and family!
Amy Guaman '22
Aiden Malanaphy '22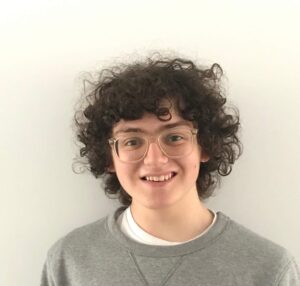 Hi My name is Aiden and I'm currently a senior majoring in Psychology and Art History. At the lab I will be working on the Wesleyan Word Experience Project and other ongoing studies. Outside of the lab I am working on a thesis in contemporary architecture, I am an Arts & Culture editor for the Wesleyan Argus, and I love to bike!
Sarah Morgan '22 (Neuroscience & Behavior Senior Thesis Student)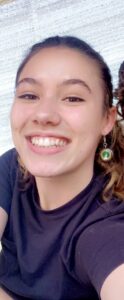 Hi! My name is Sarah Morgan, and I am a senior Neuroscience and Behavior major, with a minor in Chemistry. I joined the lab in the summer after my sophomore year and have worked on creating stimuli for various projects, such as the Wesleyan Word Experience Project, since then. Currently, I am bringing my senior thesis to fruition under the mentorship of Dr. Juhasz. Outside of research, I enjoy choreographing dance pieces, learning languages, practicing phlebotomy, peer tutoring in physics, and playing piano and cello.
Wiralpach Nawabutsitthirat '22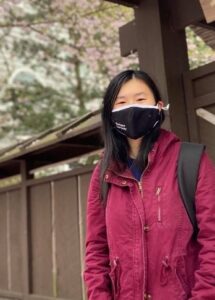 Hello! My name is Wiralpach. I am a senior ('22) Psychology and Art Studio double major from New Haven, Connecticut. I joined the lab in my sophomore year and have worked on the Word and Sentence Ratings Project. In my free time, I enjoy cooking, ice skating, and practicing kendo.
Meiwen Shao '23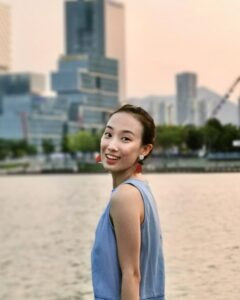 My name is Meiwen. I am part of the class of 2023, and I am majoring in Neuroscience & Behavior and Economics. I am from Shenzhen, which is a city located in southeastern China. Outside of academics, I enjoy figure skating, cooking, and spending time with my family!
Former EyeLab Members
These students spent a year or more working in the lab on various research projects.
Kate Babcock '21
Rachel Berkowitz '09 (Senior Honor's Thesis: Recognizing English Compound Words: The Role of Morphological Family Size)
Jennifer Brewer '13
Melanie Cherng '08 (Senior Honor's Thesis: The Role of Hyphenation in Compound Word Processing)
Yeri Choi '08
Joanna Dicke '10
Oufei Dong '13
Alison Galante '20
Margaret Gullick '07
Alix Haber '11
Malcolm Hill '08
Tanya Horwitz (Senior Honor's Thesis: The effects of age-of-acquisition on lexical decision and naming times)
Meghan Jain '18, MA- Neuroscience & Behavior '19 (MA Thesis: Differences in Reading and Eye-Movement Patterns in Previously Concussed Student-Athletes)
Shakeel Jessa '21
Celia Joyce '16  (Senior Honor's Thesis: Individual variability in reading processes: The compound remote associates test)
Julie Kastenbaum
Micaela Kaye '16
Yun-Hsuan Lai '14 (Senior Honor's Thesis: Eye Movements in Autism Spectrum Disorder: Implications for Social Deficit)
Rebecca Loomis '10 (Senior Honor's Thesis: The Influence of Sentence Context on Reading Times for Abstract and Concrete Words)
Alexandra Pogosky '13
Ali Pourmaleki '17
Chaltu Rashid '21
Akila Roaul '16
Samantha Schreiber '18, MA in Psychology '19 (MA Thesis: Compound Word Processing and Individual Difference Measures of Morphological Awareness)
Joshua Sharp '09
Leah Shesler '11 (Senior Honor's Thesis: The Age-of-Acquisition Effect in Patients with Language Impairments)
Linda Shum '09
Medha Swaminathan '19
Sarah Taylor '07
Kelsey Tam '19
Kacey Wochna '10 (Senior Honor's Thesis: The Puliguous Effects of Context Length on Incidental Word Learning)
Michelle Woodcock '14
Lauren Yue '17